2019 19th Edition India's Most Comprehensive Exhibition of Garment & Textile Industry Knit Show
Share
Issue Time

2019/09/14
Summary
We invite you to 19th Edition India's Most Comprehensive Exhibition of Garment & Textile Industry Knit Show 2019 which is being held in Tirupur please reserve your dates from 4-5-6 August 2019 TIMING FROM 10AM TO 7PM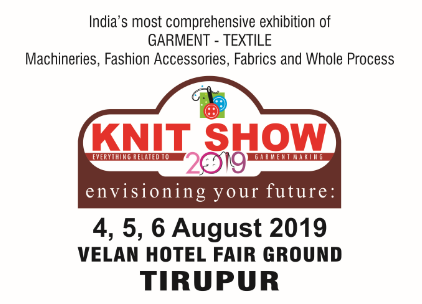 We invite you to 19th Edition India's Most Comprehensive Exhibition of Garment & Textile Industry Knit Show 2019 which is being held in Tirupur please reserve your dates from 4-5-6 August 2019 TIMING FROM 10AM TO 7PM
the Venue is Velan Hotel Fair Ground, Kangayam Road, Tirupur.
So we would like to invite you to visit our Booth H3-E22 WENZHOU CHANGS MACHINERY CO. LTD. IN TIRUPUR KNIT SHOW 2019 FROM 4-5-6 August 2019 TIMING FROM 10AM TO 7PM. We would be displaying printed T-shirts and other type of garments which was printed on WENZHOU CHANGS' MACHINES.
We would really appreciate your visit to our booth.