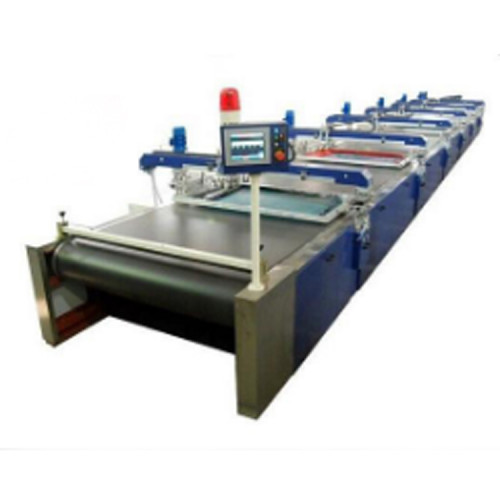 SPD Series Automatic flatbelt Screen Printing Machine
Model

SPD1260 SPD1680 SPD2010 SPD2215
Item specifics
After-sales Service Provided

Engineers available to service machinery overseas
Printing color

6Color
Conductance band width

150/200/240/260cm
Conductance band length

15.3/18.9/22.5/35m
Maximum printing area

60x120/80x160/100x200/150x220cm
Maximum screen frame area

80x165/110x210/130x250/180x260cm
Description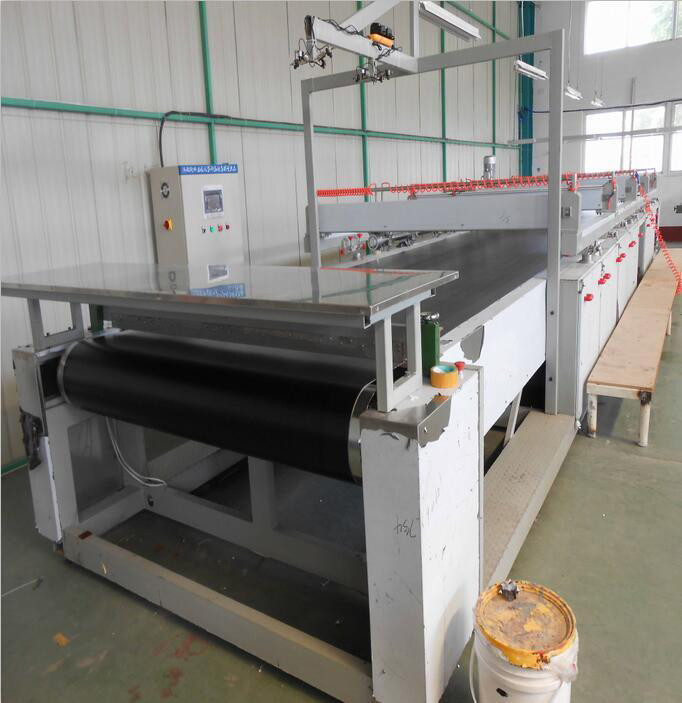 SPD Automatic Flatbelt Screen Printer

SPD Automatic Flatbelt Screen Printer for Gray cloth

Automatic pilot printing machine is also called automatic water pulp printing machine,which is the most representative new flat screen printing machine in the printing industry. It operation good stability,highprecision, production speed, easy operation, low mechanical failure rate,less maintenance, save energy in the direction of the design and processing,fully meet the needs of more varieties of pattern printing process,this machine is a advanced science and technology of textile printing and dyeing machinery products,leading the industry, printing industry is the only choice, and be your best business partner. Suitable for natural or synthetic fibers or blends of flat or knitted fabrics such as bath towels, towels, carpets,sweaters,children'swear,women's wear, pajamas,nightgowns, men's wear t-shirts, etc.
1. Highprecision/long life
Over print flowers accuracy + / -0.1 mm, entire printing machine rotation system adopts servo motor control system, the operation of the machine and operation by sophisticated versatility of PLC program control, high-speed operation of the whole machine and stability,and imported printing special guide with Italy"Joe" lung"and" red treasure dragon ", Switzerland,hamas pl, the transmission speed is fast, accurate and responsive conduction band uniform tension, system maintenance simple, stable performance is good,security screen printing and high precision and fast speed, but also guarantee the service life of the machine.
2. New type of plate fixing system
The new type of screen plate fixing system, rapid and precise device, accurate positioning, very quick to change different patterns, short time to change plates, to meet the requirements of rapid market changes, suitable for printing more varieties, more patterns,less mass production, printing quality, and printing precision. And do not need to use special machine printing screen frame, the former manual printing screen frame can also be used, thus greatly reducing the cost of the machine.
3. Control function/printing speed
The length and number of scraping prints on the printing table are unlimited, and the average production speed can reach 20 pieces/min.
4. Easy to scrub screen version
Net version can be raised, in scrubbing net version, net version can be raised to a certain height.
5, save
Energy-saving washing guide belt device, the guide belt start to run water washing, stop without running, greatly saving water resources
6. High cost performance:
The advantages of synchronous drive, servo motor and synchronous belt drive structure make the whole machine run smoothly, with low noise, low friction and long service life.
7. Dual use
In the structural design, the fully automatic guide belt printing machine takes into account the requirement of both the cutting piece and the blank fabric printing machine, so that a machine can be used for both the cutting piece printing and the blank cloth printing.
Model

SPD1260

SPD1680

SPD2010

SPD2215

Printing color

6Color

6Color

6Color

6Color

Conductance

band width

150cm

200cm

240cm

260cm

Conductance

band length

15.3m

18.9m

22.5m

35m

Maximum

printing area

60x120cm

80x160

100x200

150x220

Maximum

screen frame

area

80x165cm

110x210cm

130x250cm

180x260cm

Printing screen

0.1mm

0.1mm

0.1mm

0.1mm

Printing power

2.3KW

3.0KW

3.0KW

3.5KW

Operation power

4.0 KW

5.0KW

5.0KW

5.0KW×2

Dimensions

765X200X130cm

945x250x130cm

1130x290x130cm

dimensions

3500kg

3700kg

4300kg

5000kg

Air

consumption

volume

cube 0.9 air compressor required